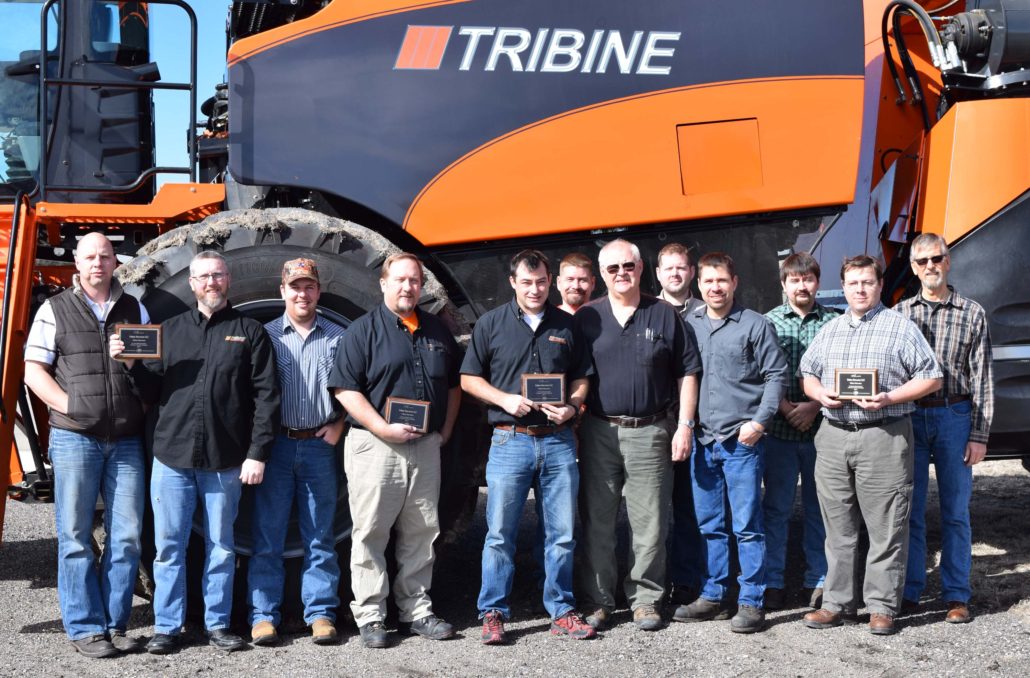 TRIBINE is one of the recipients of the AE50 award for Outstanding Agricultural Machinery Innovation 2016, from The American Society of Agricultural and Biological Engineers (ASABE)
http://tribine.com/wp-content/uploads/2017/02/Tribine-Engineering-AE50-Award.jpg
1975
3000
TRIBINE
http://tribine.com/wp-content/uploads/2016/06/TRIBINE-LOGO.png
TRIBINE
2017-02-22 16:40:54
2017-02-22 16:40:54
TRIBINE Harvester Receives AE50 Award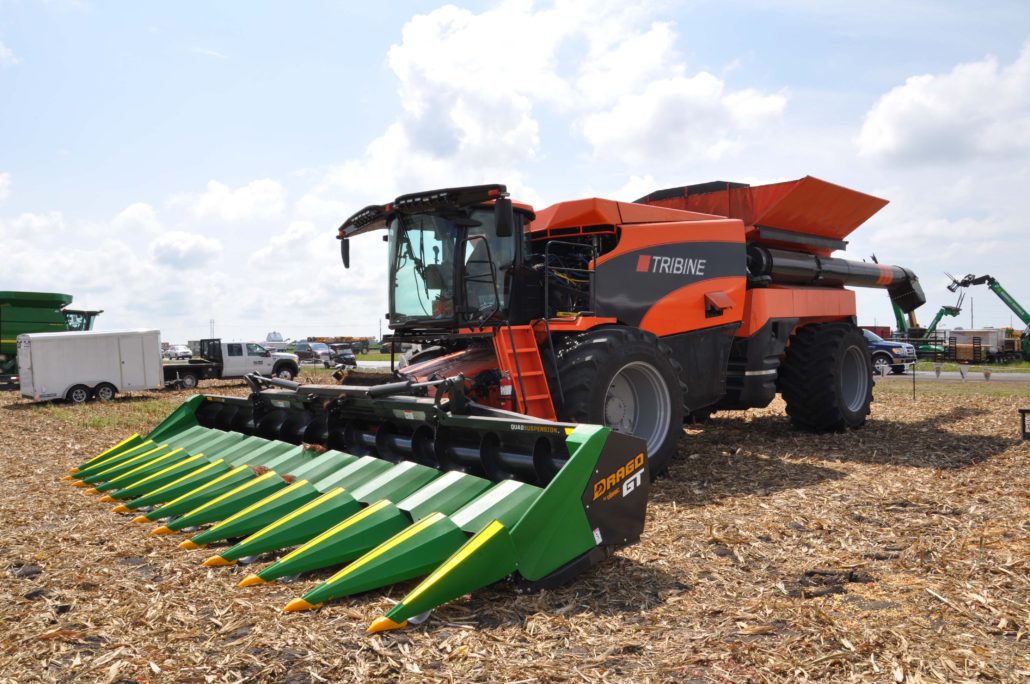 Tribine Harvester LLC today announced that their 2017 production model machines would be equipped with twin 9.0-liter Cummins engines. This running production change will boost the TRIBINE's continuous horsepower from 590 to 650,
http://tribine.com/wp-content/uploads/2016/10/TRIBINE-Demo-in-Field.jpg
2848
4288
TRIBINE
http://tribine.com/wp-content/uploads/2016/06/TRIBINE-LOGO.png
TRIBINE
2016-12-07 23:11:40
2017-02-22 16:19:48
TRIBINE TO HAVE TWIN 9.0 LITER ENGINES
You can download the Farm Progress Show and Husker Harvest Days brochure in PDF format at the following link. Right click to download, or click to open in a new window.
Tribine Harvester hosted a customer demo day in Burdett, Kansas, on October 26, 2016. What originally started out as a one day, invitation only event, turned out to be two full days of harvesting, with local farmers from three counties in attendance, plus the original invitees. There were close to 100 guests watching the Tribine harvest corn on Marshall Thompson's farm.
Burdett is a very close knit farm community about 26 miles west of Lared; where everyone knows everyone. This does not mean the farms are small though. Mr. Thompson's 3,000-acre farm has been in the family for 8 generations and they generally farm corn, wheat, beans and milo.
The two days of demonstrations were extremely successful and generated a lot of interest among customers who would like to have a machine delivered in time for the 2017 harvest season. Tribine is in the process of taking orders for 2017 deliveries now, and have put together several finance new options to satisfy the requirements of their customers. For further information, please contact Tribine at: 316-282-8011.
Wheat and corn harvesting from August and September 2016. With video from the Farm Progress Show demo runs. An introduction to the features and benefits of the Tribine.
The all new TRIBINE was designed and assembled in Newton, Kansas. This area of the US has several advantages for production, including the availability of skilled engineers who have hands on experience in local farming operations. This area is also abundant in different crops, including corn, wheat, and soybeans. The TRIBINE has been tested locally in the different crop types, yields, and ground conditions such as terraces. This video shows recent harvesting of soybeans.
The perfect harvesting system for modern farms
With a 1000 bushel grain tank capacity the Tribine can make many field rounds without stopping and unloads at over 500 bushels per minute. This unheard of capacity in the industry may eliminate the need for tractor and grain cart in many operations. A reduction in capital and operating costs are an ideal solution to make no-till profitable in the corn belt.
Just two tracks per field pass and full time all wheel drive. The articulated and crab steering makes the Tribine nimble, with turning circle radius less than most other combines today.
The 500 gallon fuel capacity seamlessly integrates into the harvester resulting in the Tribine being able to operate for 24 continuous hours without refueling.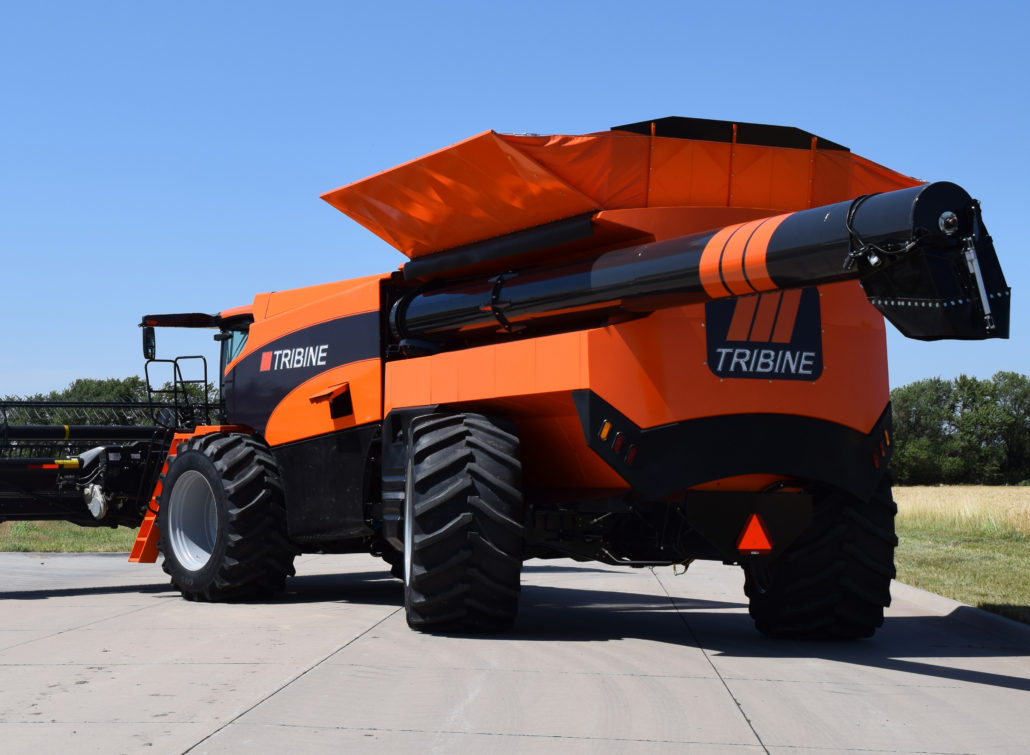 2
Unload in less than two minutes
3
Full time all wheel drive
4
500 gallon fuel capacity. 24 hours continuous operation
5
Retractable during road use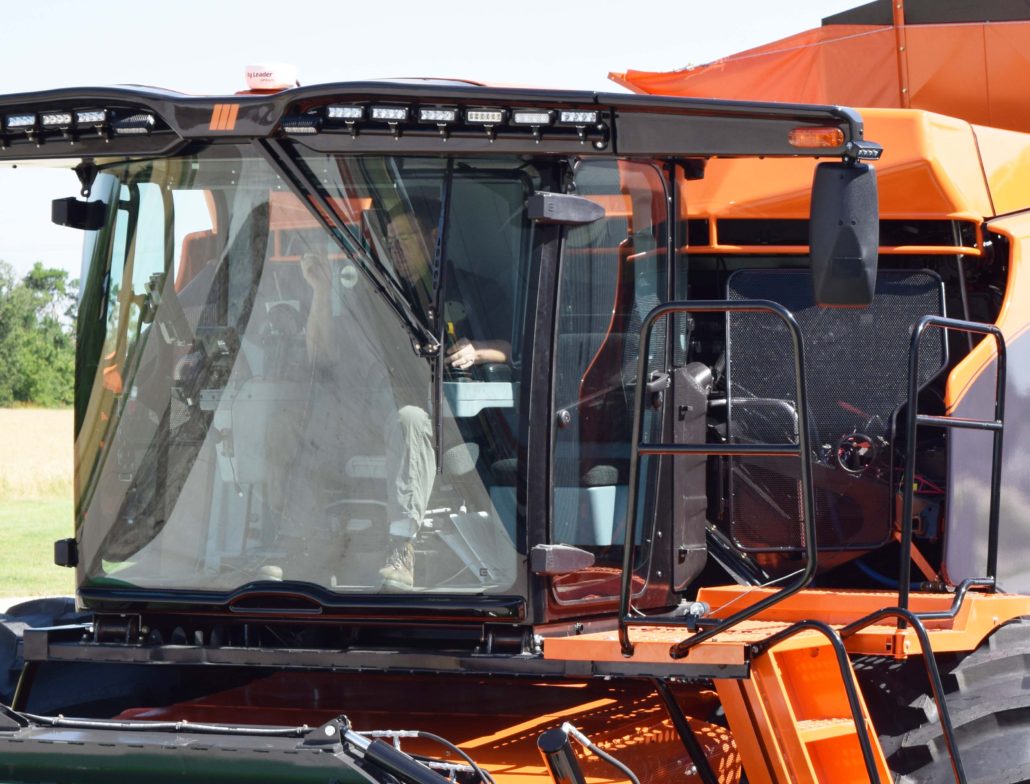 1
Glass cab floor. No steering wheel
2
Single steering joystick control
3
360° LED lighting for 24/7 operation
4
Hinged door and access space
5
Ladder access in front of tire
An innovative new cab was designed for operator comfort, intuitive control of the harvester and unprecedented visibility.
By removing the steering wheel and replacing it with a single steering joystick control, the comfort of the operator is improved and precise maneuverability of the harvester is enabled.
In the steering column area, the glass cab floor provides unrestricted visibility down towards the header and field. The ladder in front of the wheel allows easy access with a spacious walkway for hinged door entry.
To further assist the operator, the LED lighting throughout enables 24/7 operation. Wrapping around the front edge of the cab, the Tribine illuminates everything in its path. This lighting combines with operator control cameras and the extra large side mirrors, to provide 360 degree operation visibility.
Threshing and cleaning system
The Tribine carries grain in the rear module, allowing much more room directly behind the cab for a revolutionary new cleaning and threshing system design. The cleaning area is significantly wider than other combines and is assisted by advanced pneumatic methods for removing the chaff from the grain.
The rotor has a swung diameter of 38 inches, and the concave/grate wrap around it is designed to use 270 degree of the cylindrical surface area, providing much larger separation area than other single rotary machines in today's market.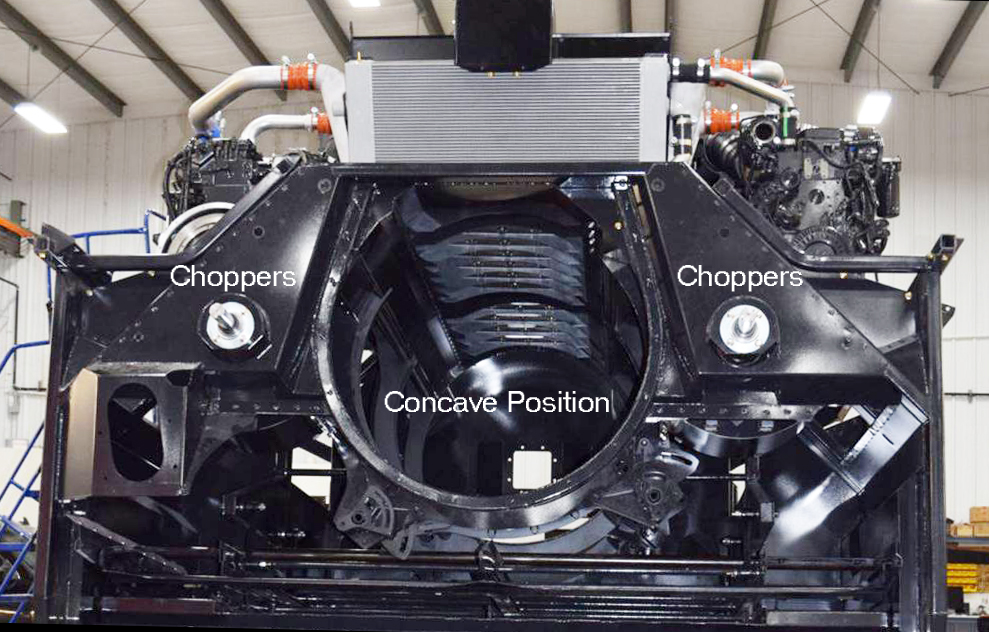 1
Cooling package for both engines
2
Adjustable transports veins
3
9 Liter Cummins harvesting engine
4
9 Liter Cummins propulsion engine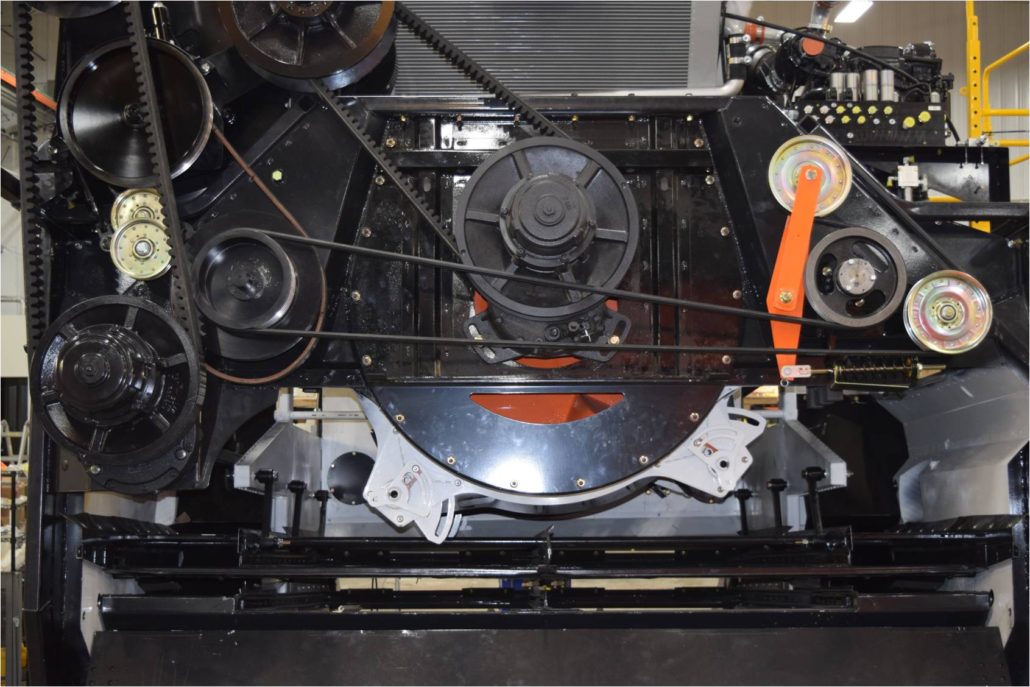 4
103 inch wide cleaning system
With up to twice the cleaning area of any other harvester, these features produce separation, cleaning, and very high throughput. The dual engine design ensures dedicated power is always available to run these systems in the highest of yields and toughest of conditions.
After the clean grain is separated, two side discharge choppers propel the finely chopped chaff out from the Tribine, for a swath width up to 50 ft. This provides better field distribution of residue, for faster decomposition and return of nutrients back into the soil. Tribine residue management components will finally provide the much needed answer to wide headers and residue problems that go with them, while consuming much less of your harvesting horsepower.
ADJUSTABLE ROTOR VANES
Control the pitch of Tribine's rotor vanes, hydraulically, from inside the cab.  The pitch is adjustable from 0 degrees (slowest) to 27 degrees (fastest).  Speed up or slow down the speed that crop passes through the rotor, ON THE GO!  Fine tune machine performance to deal with the changes in crops and conditions your operation experiences, throughout the harvest season.
HYDRAULIC CONCAVE ADJUST
Adjust all three banks of concaves with the push of a button.  Tribine's concave adjust system achieves silky smooth operation with rock solid position retention, using a hydraulically actuated cam follower mechanism.  The system adjusts the concave clearance from the rotor from fully closed to over 2".  When fully open, the concaves are concentric to the rotor.  As the concaves are closed, Tribine's triple pinch point threshing becomes more pronounced for more aggressive threshing and separating.  The power of hydraulics assures that the concaves will not be "frozen" in a given position by time or by crop pressure, should you desire to change the setting.